30 Gorgeous Stars Of The 70s Then And Now
1. Linda Ronstadt
Musician Linda Ronstadt began her career at the Troubadour, a popular nightclub in West Hollywood, where she would play shows. Her music's style and tone evolved through the first few years as she put her own twists on the classics, earning herself nicknames like "Queen of Rock" and "First Lady of Rock" by the whole country. Throughout her career, she's received 10 Grammy awards, as well as had over 30 gold and platinum records. She continued singing until the year 2013, when she announced her Parkinson's disease diagnosis. Her memoir calle "Simple Dreams: A Musical Memoir" was released later on the same year.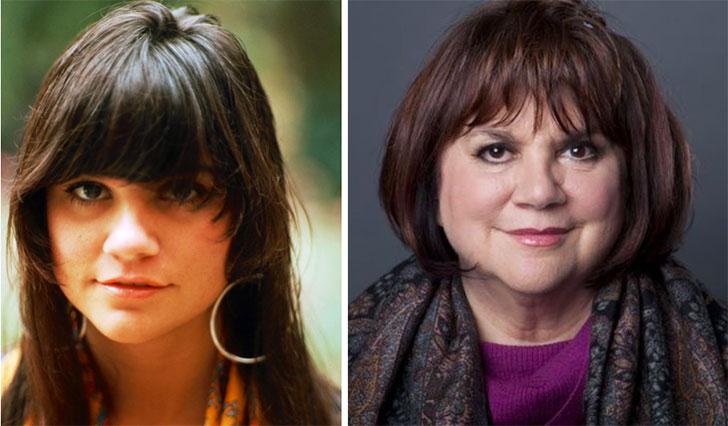 2. Goldie Hawn
Goldie Hawn got her break as a very popular regular at Rowan & Martin's Laugh-In. She was loved by everyone and had a great personality, which paved the way for her to go on to bigger roles in movies like "Butterflies are Free", and "There's a Girl in My Soup". Some of her other most notables roles were in "Death Becomes Her", and "The First Wives Club". Her last performance before a decade and a half long hiatus came in the 2002 film "The Banger Sisters". Goldie Hawn returned to the screen this past year where she starred in "Snatched" alongside Amy Schumer.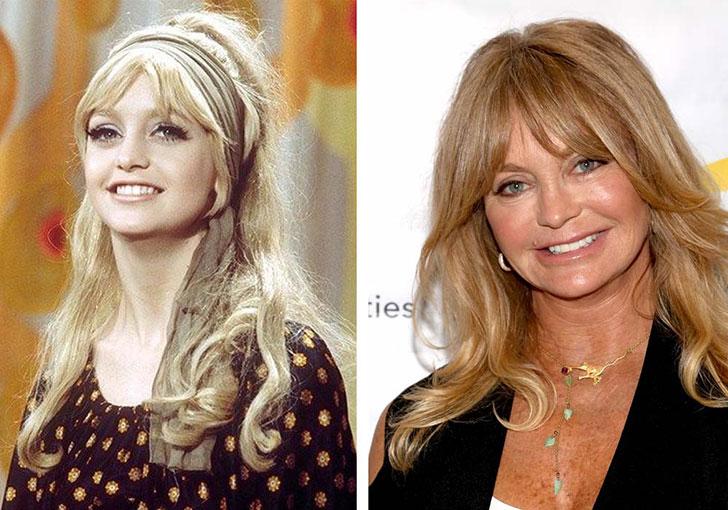 3. Pam Grier
Pam Grier made her career playing bold, assertive, badass women – like herself – in the early 70's. She was a popular feature in the era's "blaxploitation" movies, which was the exploitation of black people and black stereotypes in films. Some of her most popular movies were "Coffy", ans "Sheba, Baby". Her career has continued to progress over the last fifty or so years, with movies like "Foxy Brown", "Man with the Iron Fists", and "Mars Attacks"! She shows no signs of stopping, though, with 3 movies currently in post-production, expecting release soon.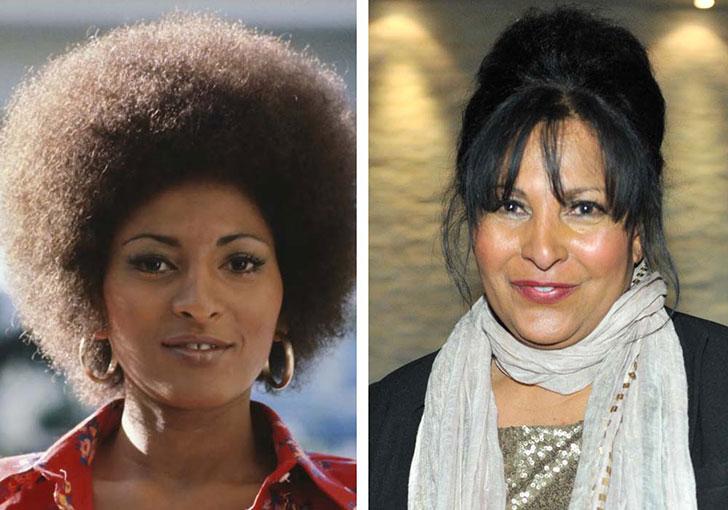 4. Linda Gray
Actors get recognition by starring in their own roles however big or small, but for Linda Gray, it was her stint as Mrs. Robinson's stunt double in "The Graduate" that paved her career. Her breakthrough performance was as the character Sue Ellen on the TV show "Dallas", where she stayed from 1978 to 1991. She reprised her role in the 2012 remake of the original show, which ran for 2 years until 2014. Most recently, you might have caught her 2-episode guest appearance on the show "Hand of God".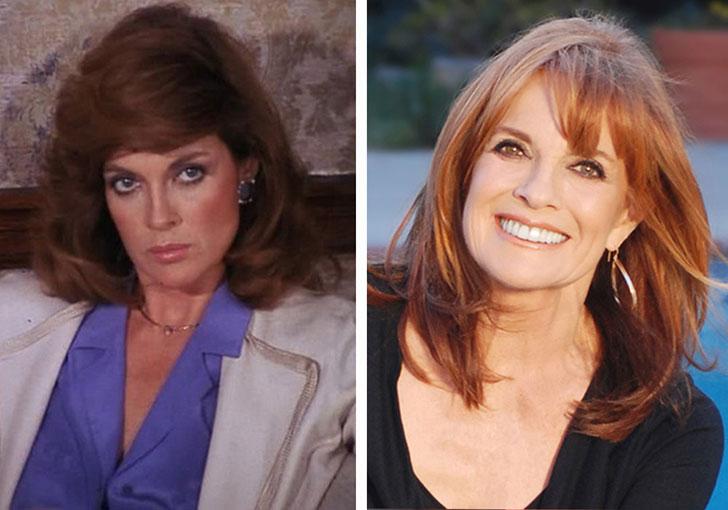 5. Kim Basinger
Kim Basinger was already a successful model when she decided to dabble in acting as well. Her on-screen debut was in a TV series called "Gemini Man". Following this, she's continued to act in several TV movies and series. Still, it wasn't until the 1980s when she would finally appear on the big screen. She acted in several movies, but perhaps her most popular role was the portrayal of the character Lynn Bracken in the movie "L.A. Confidential". Most recently, she's appeared in movies like "The Nice Guys", alongside Russel Crowe, and the film adaptation of "Fifty Shades Darker".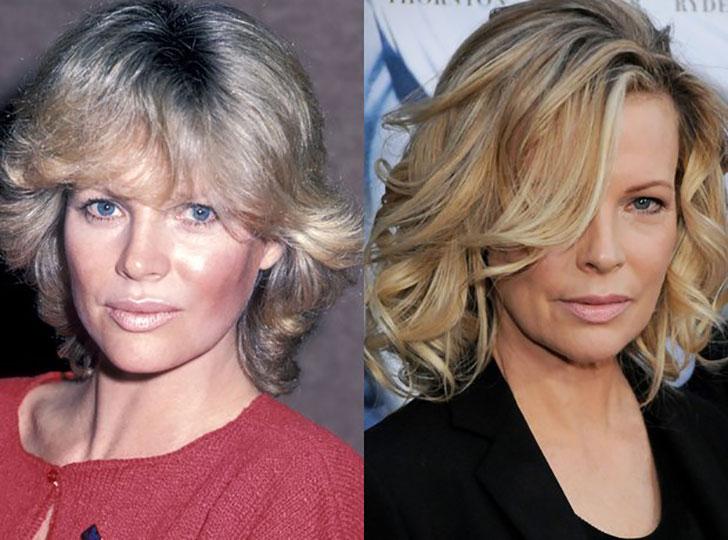 6. Barbara Streisand
Barbara Streisand had already made herself a name in the field of music and musicals, appearing in films like "Funny Girl", and "Hello", before the 1970s. But the 70s were when Barbara's career would take off. She has gone from just a singer to singer, actor, writer, producer, director, composer and more to this day. She has continued singing and acting throughout; and even went on tour recently! Barbara Streisand announced that she was going to write a memoir in 2015, we are expecting the release of it in the near future!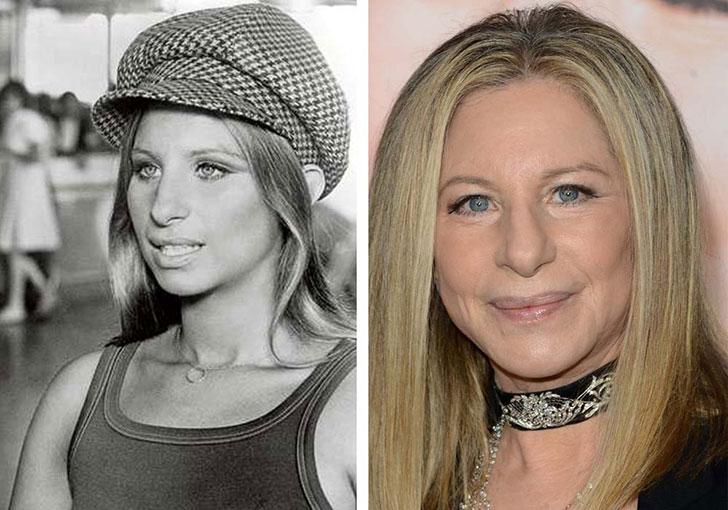 7. Billie Jean King
Tennis legend Billie Jean King is best known for winning the "Battle of the Sexes" tennis match against male-champion Bobby Riggs in 1973. Not only did this cement her name as one of the best female tennis players, but one of the best tennis players period. She was also notably the first prominent female athlete to come out as gay in 1981. Her name was added into the International Tennis Hall of Fame in 1987. If you're interested in learning more about her life story, you can watch the recently released movie called (what else?) "Battle of the Sexes", with Emma Stone portraying Billie, alongside Steve Carell.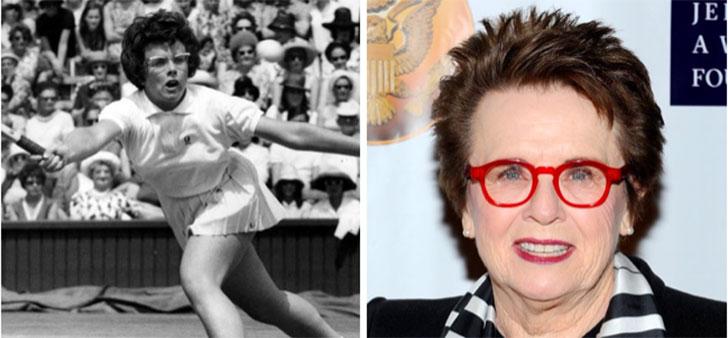 8. Ann-Margret
In 1963, newbie Ann-Margret got her big break starring in the movie adaptation of "Bye Bye Birdie" as Kim Mcafee. Her career took of after that, and has shown no signs of slowing down even till today. Ann-Margret also has made a name for herself in the singing front, having released 14 albums to date and earning herself multiple Grammy nominations. Most recently, you can catch her starring as Annie Santorini in the 2017 movie "Going in Style". The film also featured other acting legends such as Morgan Freeman ad Michael Caine.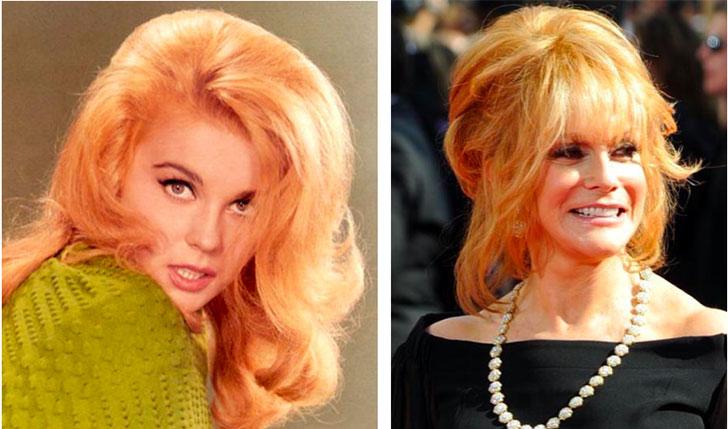 9. Allison Arngrim
Allison Arngrim's most popular role was as nasty Nellie in the TV show "Little House on the Praire", but this was both a blessing and a curse. Forever living under the shadow cast by this character, she has never been able to fully move past it. Even though she starred in several movies and TV shows, there was nothing quite as successful as that one. In 2010, she released a comedic memoir called "Confessions of A Prairie Bitch: How I Survived Nellie Oleson and Learned to Love Being Hated". Currently, she is passionate about the various charity and volunteer projects she's involved in.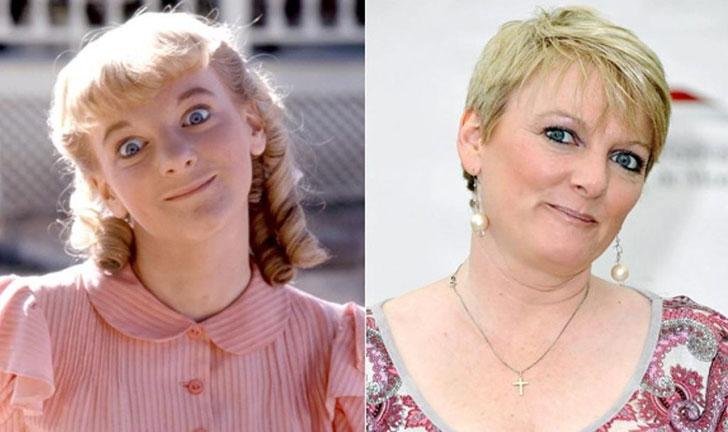 10. Maureen McCormick
Maureen McCormick will always be Marcia Brady of the TV sitcom "The Brady Brunch" for those who grew up with the show. Since the show's end, she's reprised the role several time for spinoffs and TV movies. She has also appeared in a few reality TV shows over the years, including "Dancing with the Stars", and "I'm a Celebrity… Get Me Out of Here!" Most recently, you can catch her in the 2017 drama film "The Neighborhood".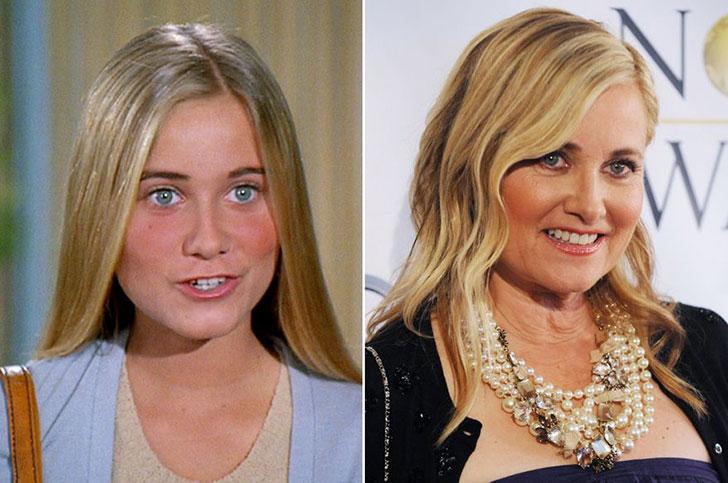 11. Teri Garr
Teri Garr's breakthrough performance was in the 1974 movie "Young Frankenstein", where she played a character called Igna. Following that, she starred in several movies including "Tootsie", and "Close Encounters of the Third Kind". In 2002, she publicly announced the sad news of being diagnosed with a disease called multiple sclerosis. But, she's managed to make the most of the tragedy by becoming the national ambassador for the National Multiple Sclerosis Society and the chairwoman for the Society's Women Against MS program.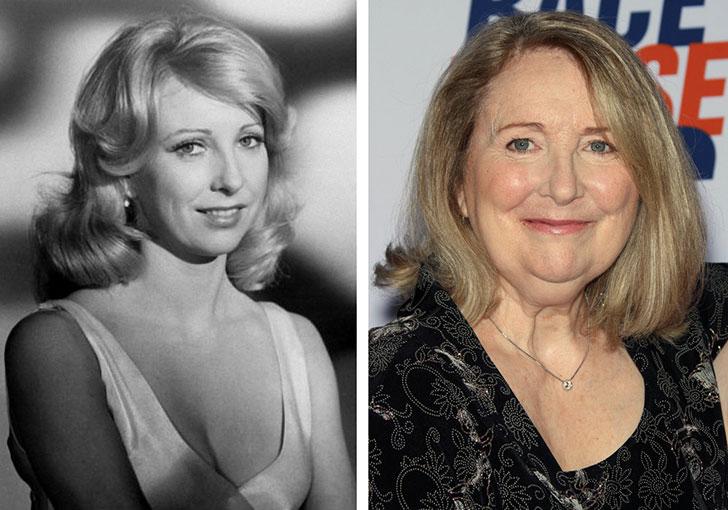 12. Cicely Tyson
Cicely Tyson is one of those actresses that has made such an impact both on the screen and off of it. Some of her most critically acclaimed movies and TV shows include "Sounder", "The Autobiography of Miss Jane Pitman", and "King". Today, Cicely Tyson is 92 years old, but she has no interest in retiring. Most recently, you can catch her on the hit TV show "How to Get Away With Murder", where she proves her acting chops are still good enough to reduce you to tears.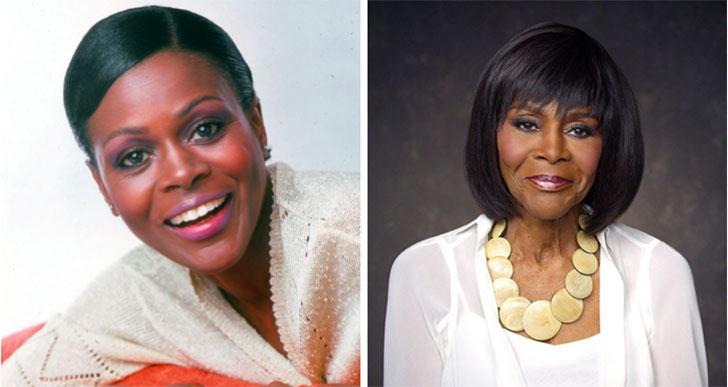 13. Charlene Tilton
Best known for playing the character Lucy Ewing on the show "Dallas", Charlene Tilton was given the nickname "poisonous dwarf" thanks to her small stature (she was only 4 feet 11 inches tall), as well as the wild and crazy personality of her character. Following this, she continued acting but also ventured into the music field, becoming a pop singer. More recently, though, you're less likely to see her on screen or the stage. Instead, you'd see her advocating and being involved in charity work, especially those focusing on helping foster children.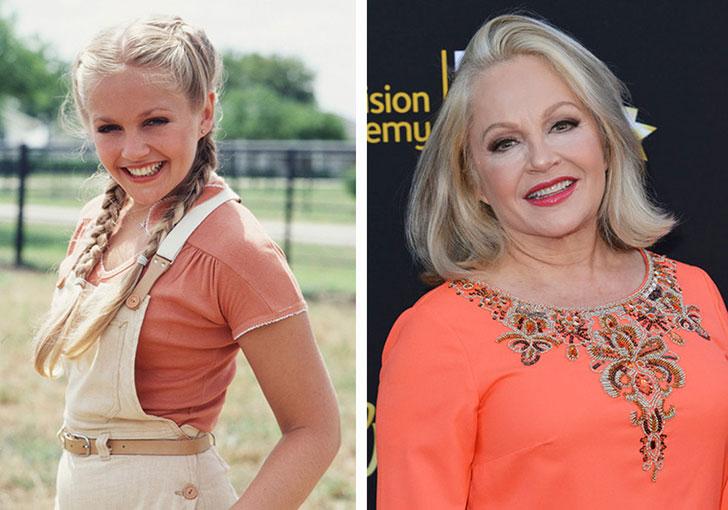 14. Paula Prentiss
Paula Prentiss made a name for herself as an actress by starring in several comedic roles in the 1960s. In 1975, she stepped out of this genre and appeared in a cult horror film called "The Stepford Wives", which proved that she was no one-trick pony! She's continued acting over the years, but mostly in small and supporting roles. Most recently, she appeared in the 2016 horror movie "I Am the Pretty Thing That Lives in the House".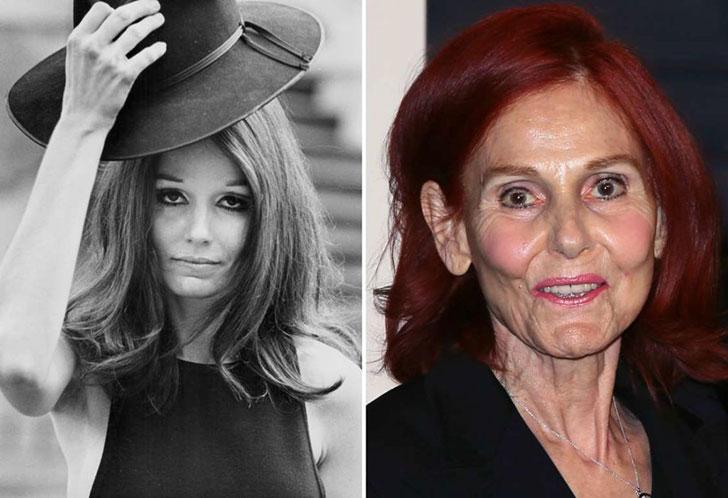 15. Loretta Swit
Best known for playing the character Major Margaret "Hot Lips" Houlihan in the military TV series "M*A*S*H", Loretta Swit was one of the only four of the show's cast members to remain throughout the show's 11 season run. This was the character that earned her many nominations as well as 2 Emmy awards. She's been largely inactive on the Hollywood front since the late 1990s, although she did some voice over work in 2015. Although her last appearance on screen was in 1998, it seems like she'll be returning quite soon this year!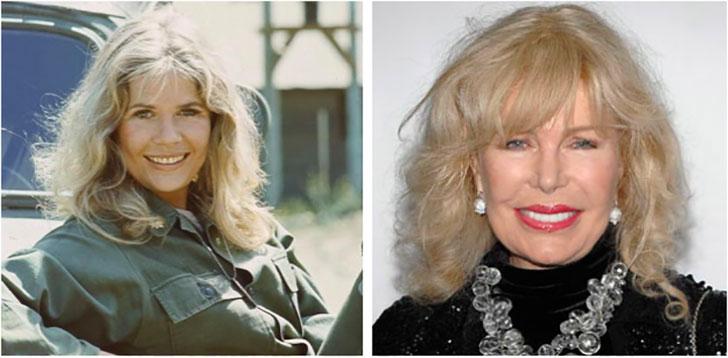 16. Debbie Harry
Born Angela Tremble, and better known as Debbie Harry, she is the lead singer of the band "Blondie". Their debut album was released in 1976, shortly after which their fame skyrocketed. Success has followed them through nearly 4 decades, and the band released its 11th studio album called "Pollinator" in May of 2017. Inspired by legend Elton John, Debbie Harry has become more involved in charity work since 2011, working with organizations like Endometriosis Foundation of America and Amnesty International Human Rights.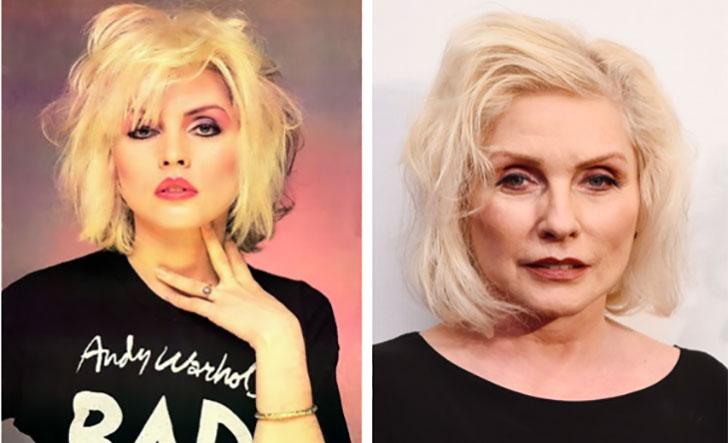 17. Jane Seymour
Best known for being the Bond Girl, Solitaire, in "Live and Let Die", Jane Seymour quickly cemented herself as the Hollywood it-girl. This newfound status lead her to many roles, including movies like "Battlestar Galactica" and "The Four Feathers". She continues acting even today, but has also branched out into other fields like jewelry design and authoring self-help/inspirational books.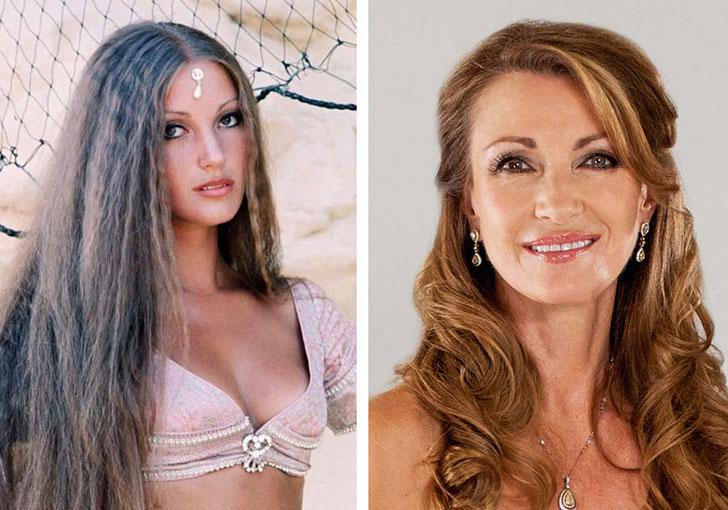 18. Diane Keaton
Diane Keyton's breakthrough role was in the movie "The Godfather" as Kay Adams-Corleone. This included with her following collaborations with Woody Allen in movies like "Play it Again Sam," "Sleeper," "Love and Death," and "Annie Hall" really concreted her fame and made her a household name. Portraying the title character in the 1977 film "Annie Hall" earned her an Oscar for Best Actress as well! Most recently, you can catch her in the 2017 romantic comedy "Hampstead".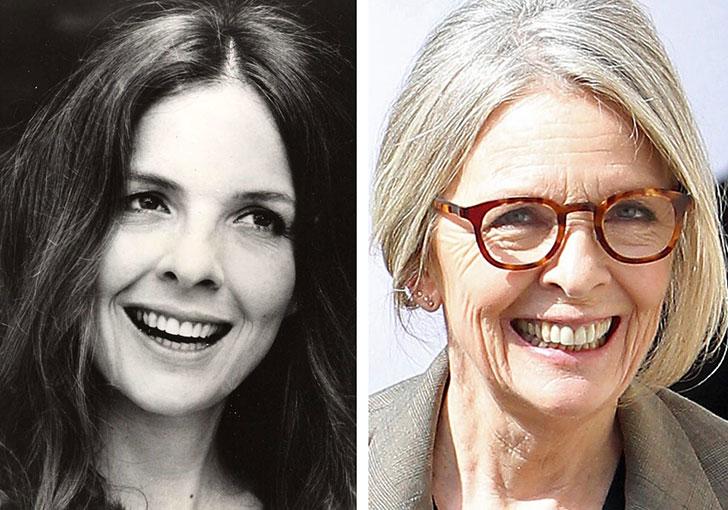 19. Sissy Spacek
Sissy Spacek made quite a scene breaking into the Hollywood front in the 1970s. Her film "Badlands" (1973) received critical acclaim. Shortly after, she played the titular character in the cult horror movie "Carrie", in 1976, which earned her a nomination for Best Actress at the Academy Awards. Sissy Spacek is also known to be the first person to star in Academy Award-nominated movies in each of the 4 most recent decades. These were: "Coal Miner's Daughter" (1980), "Missing" (1982), "JFK" (1991), "In the Bedroom" (2001) and "The Help" (2011).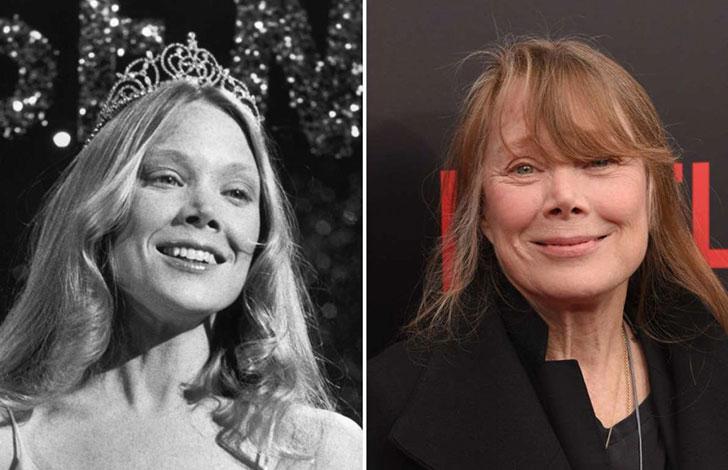 20. Faye Dunaway
Having began her career as an actress on the Broadway stage, Faye Dunaway made her on-screen debut in the 1967 film "The Happening". Later that same year she starred as the infamous Bonnie of "Bonnie and Clyde" in a movie of that same name. This was her breakthrough role, and even earned her an Oscar. Her career has been progressing steadfastly ever since, and she doesn't seem to be interested in retiring anytime soon. Her most recent venture was acting in the 2017 thriller film "Inconceivable".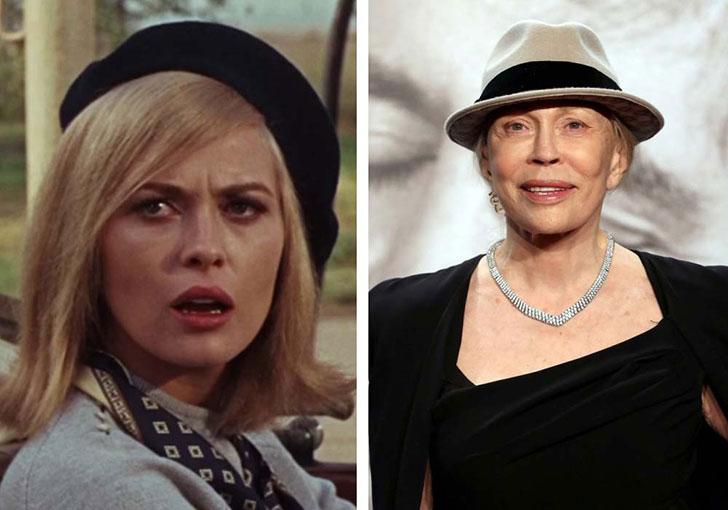 21.Katharine Ross
Katharine Ross's rise to fame in the late 1960s included critically acclaimed performances in movies like "The Graduate" as well as "Butch Cassidy and the Sundance Kid". She went on to star in more successful films such as "The Stepford Wives" and "The Betsy", which helped her seal the deal with Hollywood as an A-list actress. She married famous cowboy and southern actor Sam Elliot in 1984. The couple remain happily married to this day, and are the proud parents of a daughter.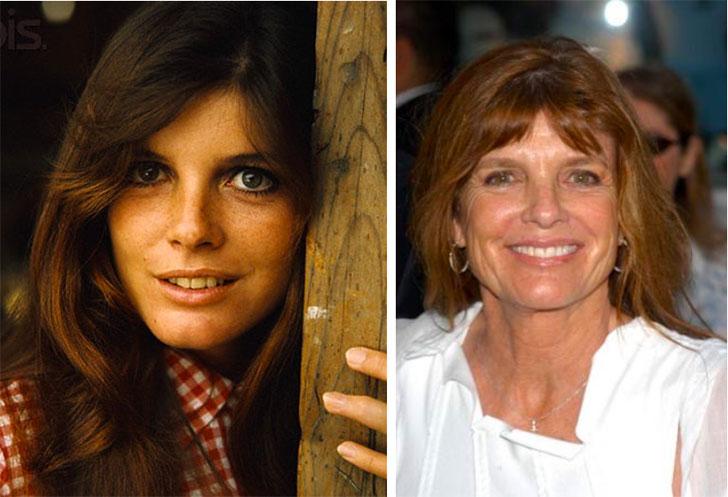 22. Julie Andrews
Julie Andrews is a double threat, with great acting skills and a gorgeous singing voice. Her fame went international when she played the lead in popular musical films like "Mary Poppins" and "The Sound of Music". She then returned to the small screen; between the years 1973 and 1975, where she headlined 5 variety specials on ABC. As of late, the most recent time she was credited in film was as the voice of Gru's mom in the popular animated feature "Despicable Me 3".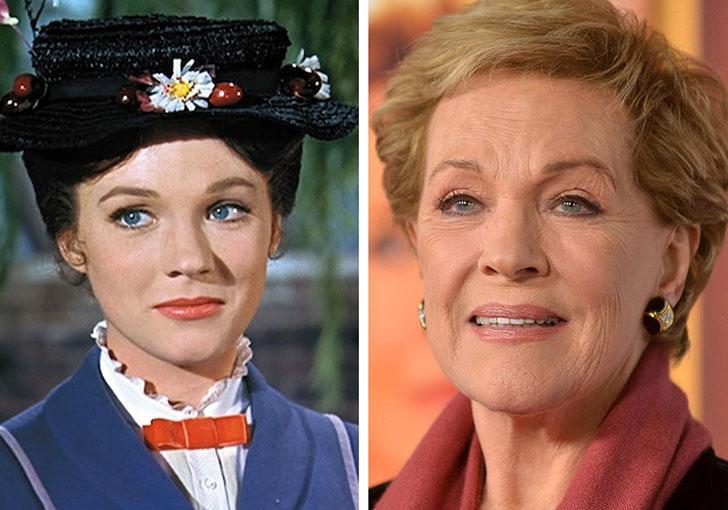 23. Beverly Johnson
Beverly Johnson made history as a model, giving the black community the recognition and praise it deserved. Not only was she the first African-American model to be featured on the cover of American Vogue, she was also the first African-American woman to appear on the French edition of fashion magazine Elle. Beverly Johnson was also one of Bill Cosby's accusers, as she details in a Vanity Fair article she wrote in 2014. In it, Beverly accuses him of drugging her in the late 1980s. She also talks about this experience in her memoir, released in 2015.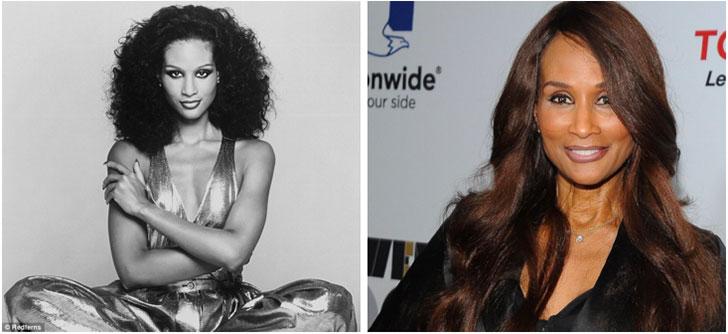 24. Karen Lynn Gorney
Karen Lynn Gorney's character Tara Martin on the soap opera "All My Children" was what shot her into fame. She played the character from 1970 t0 1974, but perhaps her most successful role was in the hit movie "Saturday Night Fever", where she played Stephanie Mangano. Following this, she took a break from acting in the 1980s. But, it appeared she couldn't stay away from the camera for long, as she was back in the early 1990s, starring in shows like "Law & Order" and "The Sopranos". Most recently, she appeared in the drama "H.O.ME." in 2016.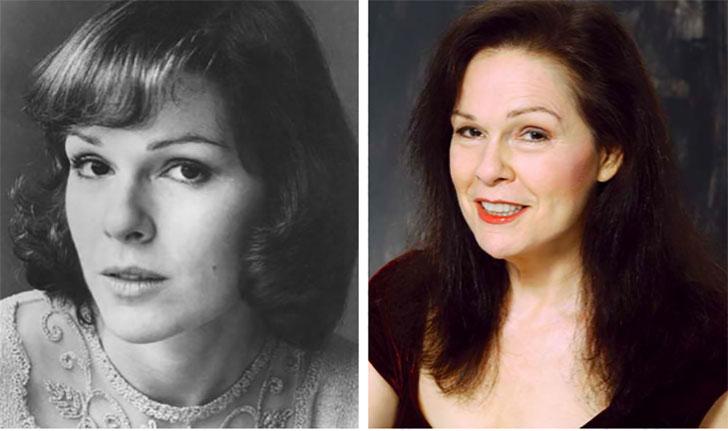 25. Lorraine Gary
Lorraine Gary is best known for playing the character Ellen Brody in the horror film series "Jaws". She announced that she was retiring from acting following her movie "1941" (which was released in 1979), but it appeared she'd make an exception for one particular franchise. In 1987, she returned to play her character one last time in the final installment of the Jaws Franchise called "Jaws: The Revenge". She seems to be more involved in charity as of late, and is a member of the Humans Rights Watch Africa Advisory Committee and the Human Rights Watch Women's Rights Advisory Committee.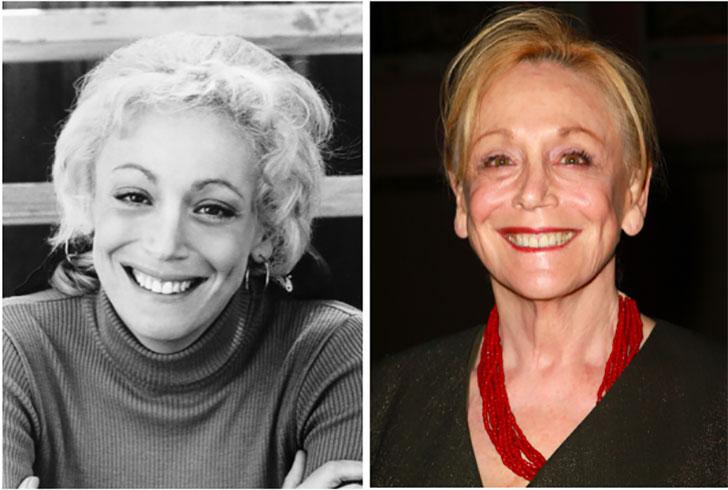 26. Ellen Burstyn
The 1970s was the golden age as far as Ellen Burstyn is considered. She received her first Oscar nomination for Best Supporting Actress in 1971, for her performance in "The Last Picture Show". A few years down the line, she was nominated for her role in the cult classic film "The Exorcist" in 1973. Although these nominations hadn't resulted in wins, Ellen Burstyn would finally get to taste sweet success in 1975, when she was awarded the Oscar for Best Actress for playing the character Alice Hyatt in "Alice Doesn't Live Here Anymore" in 1975. Her latest project was starring in the 2017 movie "A Little Something For Your Birthday" alongside Sharon Stone.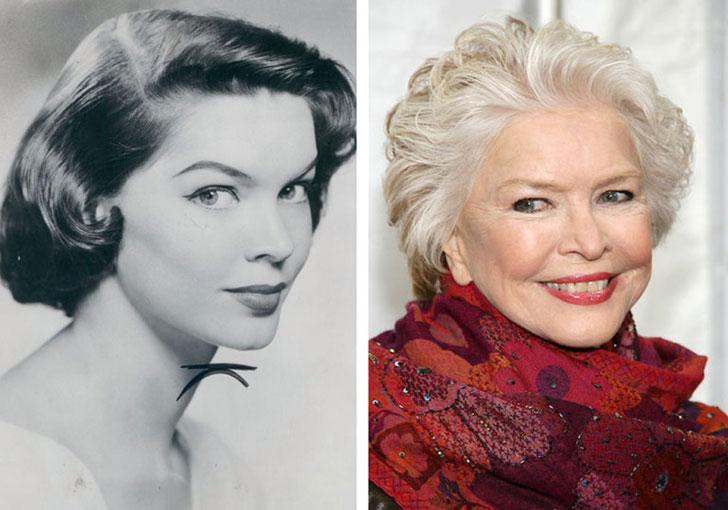 27. Kate Jackson
Kate Jackson is best known as one of the original Charlie's Angels, where she played one third of a badass, crime-fighting trio of women. However, she left her role as Sabrina Duncan at the end of the show's third season. Following this, she starred in TV shows like "Baby Boom", "Scarecrow and Mrs. King", and etc. As of late, she's appeared to have branched out into a different field. She found passion in writing, and is said to be writing a memoir that is set to be published in 2020.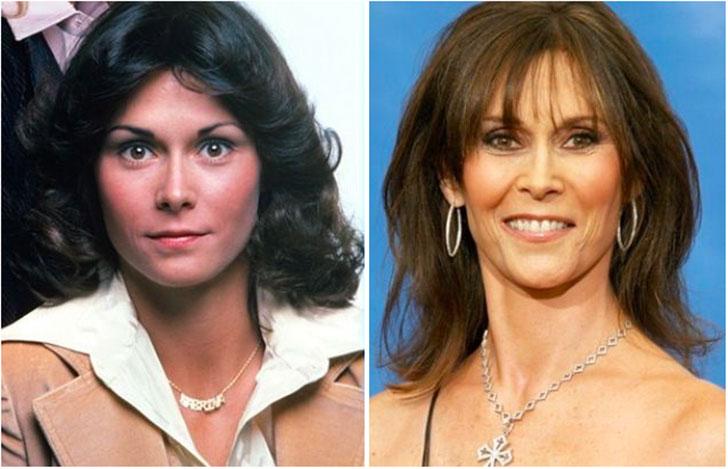 28. Meryl Streep
Meryl Streep is a name and face that needs no introduction. She got her start on the Broadway stage in the early 1970s, and made her camera debut in the TV movie "Deadliest Season" in 1977. By the end of the decade when she starred in the 1979 film "Kramer v Kramer", she was already being recognized for her incredible acting skills. She is one of the most famous and decorated actresses of all time, having received countless nominations and awards for her many performances. In fact, she has received more Oscar nominations than any other actor or actress of all time!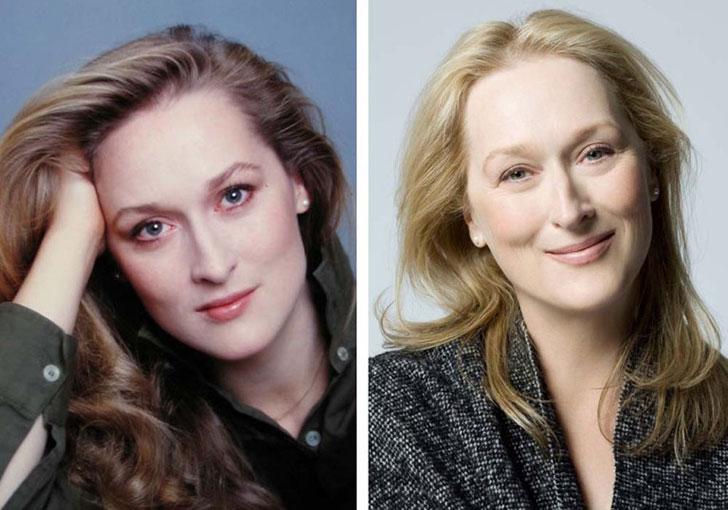 29. Marilu Henner
Early 1970s was a time of excitement for Marilu Henner, as she began the decade by traveling all around the United States with the national touring company of the Broadway musical "Grease". A few years down the line, she made her film debut in the 1977 feature "Between the Lines". But, it was only after she started playing the character Elaine Nardo on the popular 1978 sitcom "Taxi" did she become a household name. Marilu Henner is also known for something other than her acting. She is 1 of the only 12 recorded people to have Highly Superior Autobiographical Memory, which is a condition that allows her to remember every single moment and detail of her life!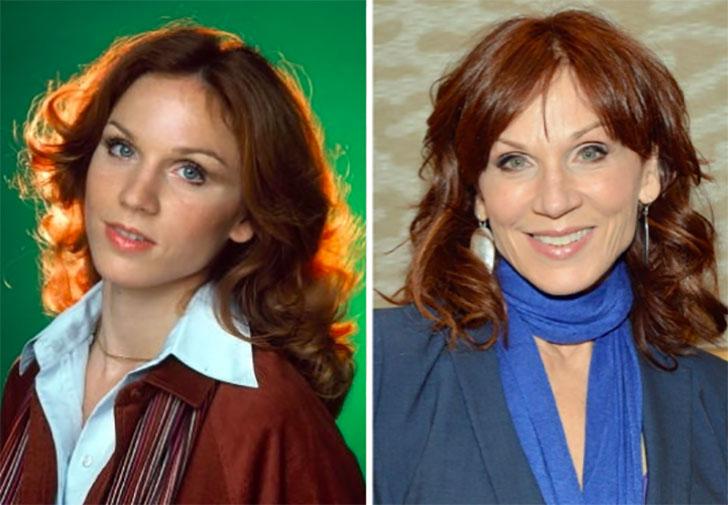 30. Carol Kane
The 1970s were great to Carol Kane. After landing her first major role as Gitl in the 1975 movie "Hester Street", she was awarded a Golden Globe for her performance. She was also being noticed by many of the big players in the industry. In 1977, Woody Allen cast her in his Oscar-winning film "Annie Hall". She then went on to star in famous movies like "The Princess Bride", "Addams Family Values", "Scrooged", and more. Today, you can catch her as Lillian Kaushtupper in the 2015-2017 Netflix original series "Unbreakable Kimmy Schmidt".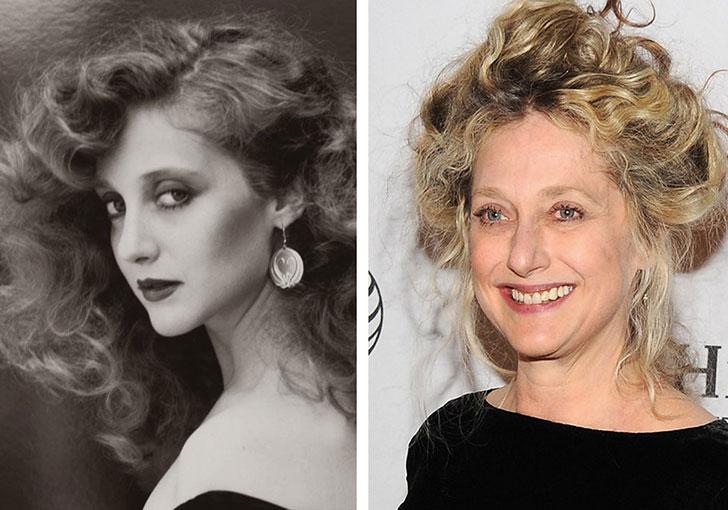 Share On Facebook