Did You Catch These References in Taylor Swift's 'Look What You Made Me Do' Music Video?
Taylor Swift is one of the most popular singers in the world, but lately her name has been involved in quite a few controversies that have drawn her praise and ridicule alike. Actually, her whole career has been more of the same. Depending on who you ask, they either love her or hate her.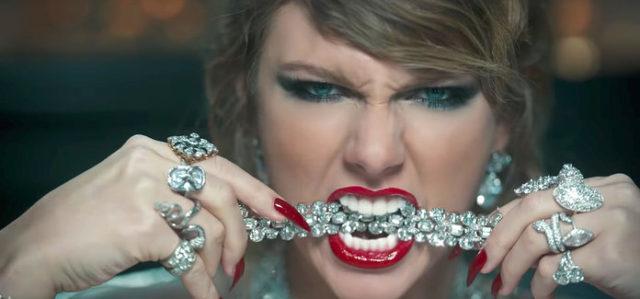 Well TS has had enough! She's come out with the music video for her most recent single "Look What You Made Me Do". The song has a lot of dark and revenge-driven lyrics, but the video is what takes the cake! The video amassed the highest views on any YouTube video in the first 24 hours, proving that Taylor is still on top of her game!
It has super cool graphics, interesting settings, and quite a few hidden and outright messages that fans have been speculating like crazy about. Did you happen to catch any of them?
Click on to see what we're talking about. And share with you friends on Facebook!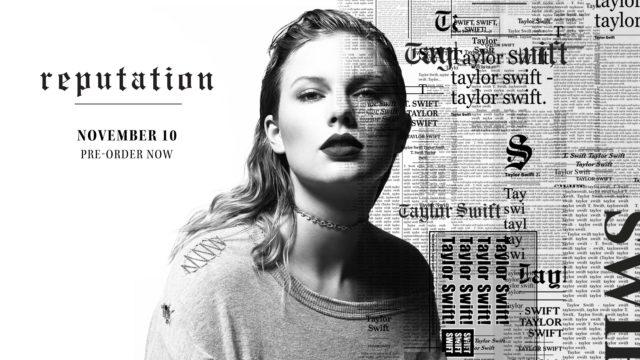 The Graveyard
The Tombstones
The video starts by spanning over a graveyard, a tombstone titled "Here lies Taylor Swift's reputation", and a zombie-Taylor Swift claws her way out of the ground.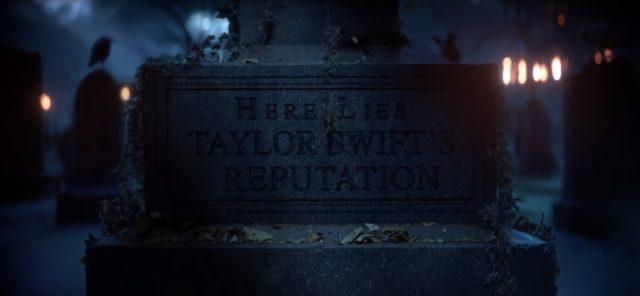 The Outfit
The dress she wear as she claws out of the dirt as a zombie is the ones she wore in her "Out of the Woods" video.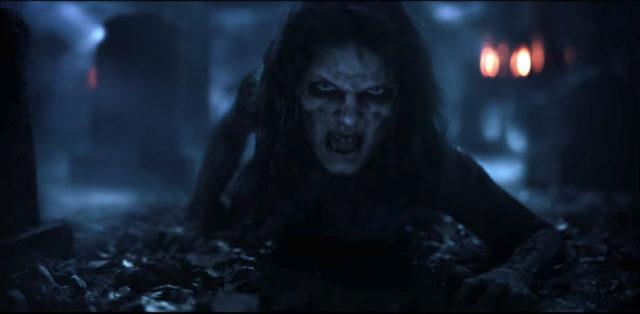 "Tilted Sage"
Taylor Swift stands in the graveyard where all the tombstones are tilted. She grabs on one and pulls and all of them straighten as she sings the lyrics "I don't like your little games, don't like your titled stage". Many have speculated that this is in reference to her feud with Kim and Kanye, as his most recent tour consisted of a tilted stage, but who knows?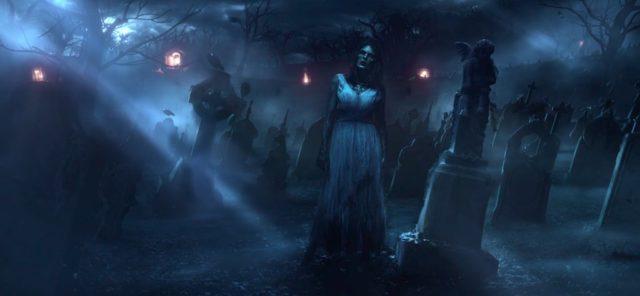 Nils Sjoberg
The shot moves over the other tombstones and one has the name "Nils Sjoberg" on it. Now, that might not mean much to you IF you were unaware that that was the pseudonym Taylor used when co-writing the song "This Is What You Came For" for her ex-bf Calvin Harris.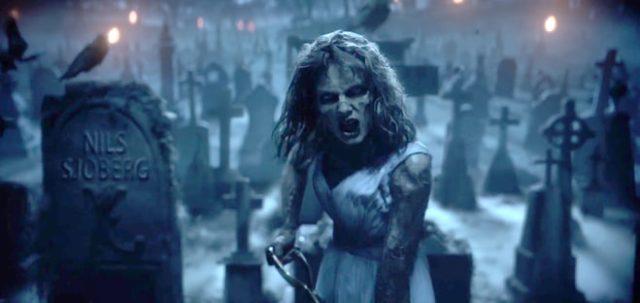 Soaking in Diamonds
Met Gala Gown
Taylor is lying in a dug up whole, seemingly ready to be buried, wearing her Met Gala gown from 2014, the era that began the down spiral of Taylor's reputation.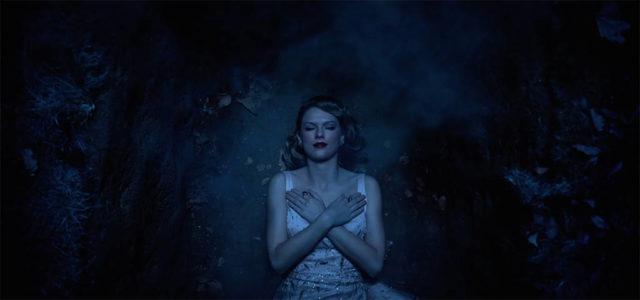 Blank Space
The shot moves on to TS soaking in a marble tub of diamonds and pearls. A locket lying on the floor looks just like the one ex-boyfriend Calvin Harris gifted her. This seems like a reference to the character she played in her "Blank Space" video. When talking about that video to NME, Taylor said ""She jet-sets around the world collecting men! And she can get any of them, but she's so clingy that they leave and she cries and then she gets another one in her web! And she traps them and locks them in her mansion and then she's crying in her marble bathtub surrounded by pearls." Any of those aspect seem familiar?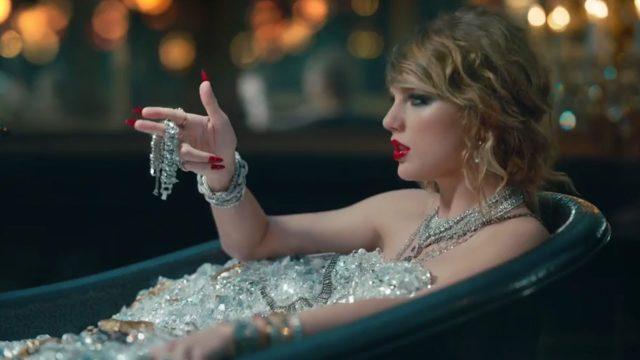 The Makeup
The bold lip, the outfit, and the overall look is inspired by Taylor's crazy girlfriend persona from the "Blank Space" video, which was a representation of the way her haters like to make fun of her.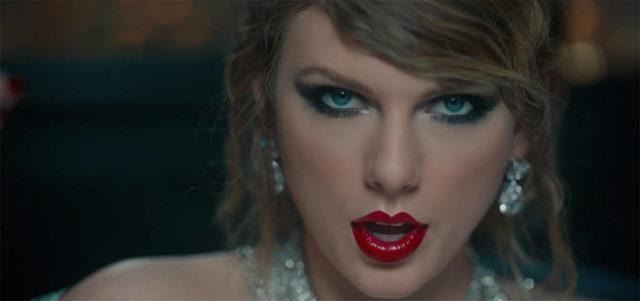 $1 Bill
In the bathtub of diamonds and pearls lies a #1 bill, seems pretty weird right? It's actually supposed to represent that one dollar that Taylor won from her legal battle against radio host David Mueller for groping her in 2013.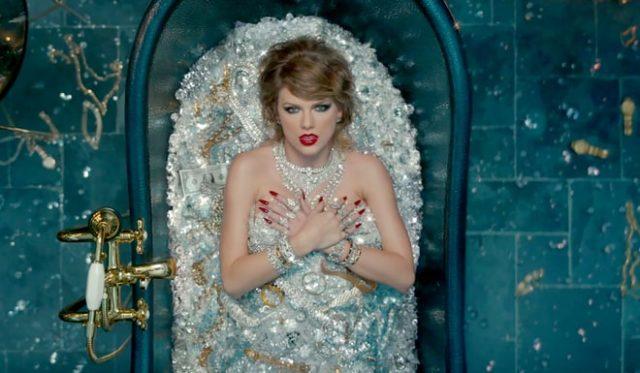 Julius Caesar
"Et Tu Brute"
The famous quote from the Shakespearean play "Julius Caesar" uttered by Caesar, as his best friend Brutus stabbed him to death, is etched on the throne in this castle-esque set.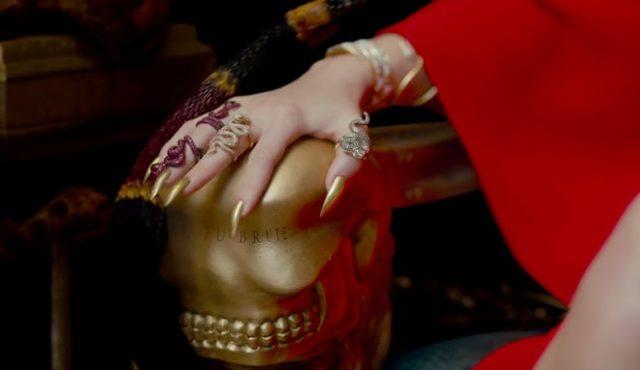 Snakes
The floor is slithering with snakes, and one even serves her tea! In 2016, Kim Kardashian released tapes of an alleged phone call between Kanye West and TS after Taylor criticized him for using her name in one of his songs without asking her. People began calling her "snake" for changing the narrative.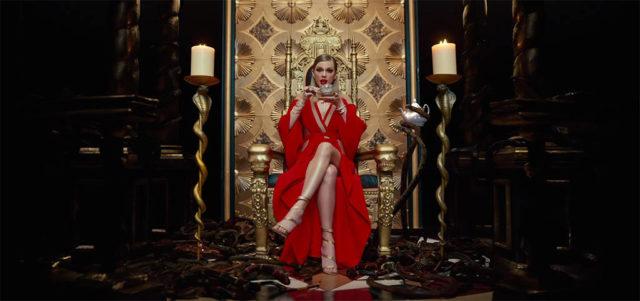 Grammy-Less Katy Perry
Taylor's hairstyle and makeup resembles Katy Perry's look in her 'Witness' promo tour in spring 2017. She also holds a Grammy, apparently alluding to the fact that Perry has never won.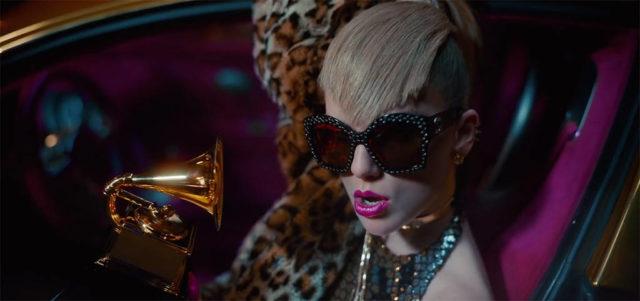 Bon Appetit!
Taylor Swift sings about being locked up as she literally has a meal in a cage, which fans have said references Katy Perry's Bon Appetit video.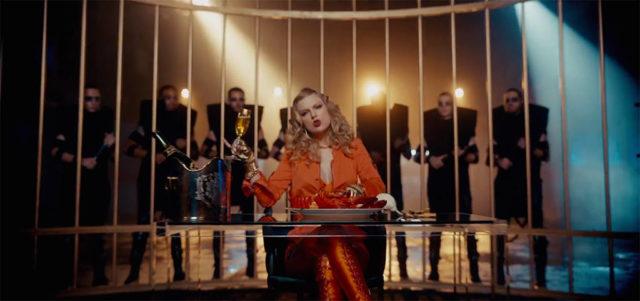 Cats Everywhere!
Cat Lady
Making fun of the people making fun of her calling her a cat lady, TS wears a cat mask to stage a bank heist, where she then rips the mask off.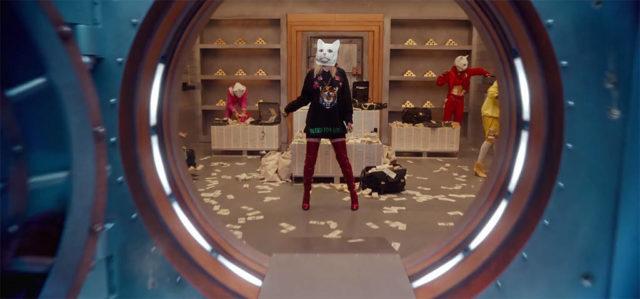 Tiger
The Tiger sweatshirt that she wears while singing about karma may be yet another reference to Katy Perry. Perry has been known to describe herself as a tiger, and calls her fans "Kittycats". She also sings about karma in her most recent video "Swish Swish" which is supposed to be about Swift.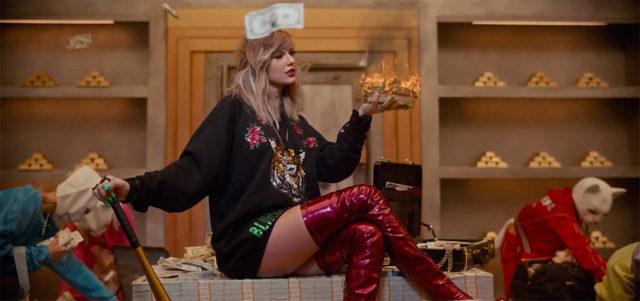 Cat Burglar
The heist is also supposed to be representative of the controversy surrounding Swift pulling her music from Spotify, a streaming company. But she later added it back in just before Katy Perry's 'Witness' came out. She also complained about Apple music not paying enough royalties to musicians back in 2014.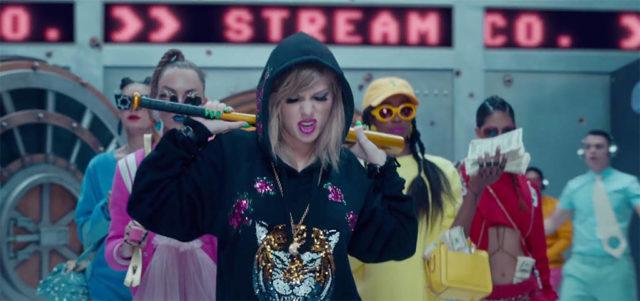 The Squad
Creepy Mannequins
A couple years back, all everyone could talk about was Taylor Swift's girl squad, but along with that came widespread criticism and ridicule that they were all models and celebrities. This shot spans over a room of mannequin like girls with Swift at the front, mocking the idea that they are all interchangeable as dolls.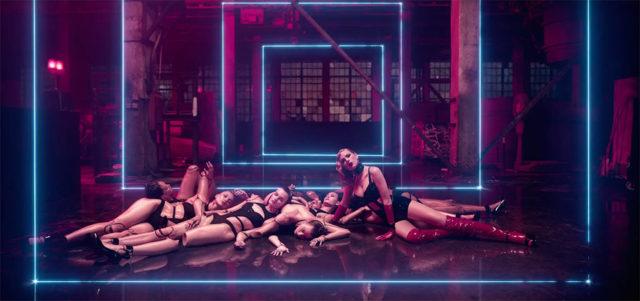 Ex-Boyfriend Represent!
Taylor then goes through a choreographed dance number where she has 8 backup dancers, which many have said represent her 8 ex-boyfriends.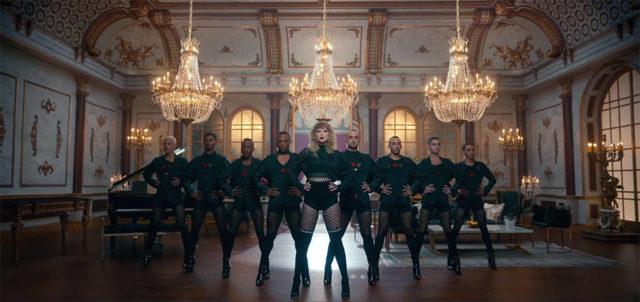 I "Heart" TS
The idea that the dancers are supposed to be her ex-boyfriends is reinforced by the I "Heart" TS shirts they all wear, similar to the shirt worn by one of the exes, Tom Hiddleston.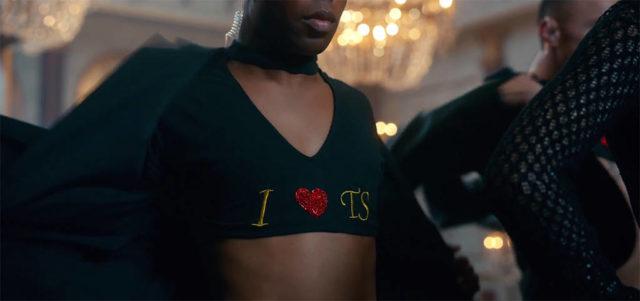 The End of An Era
The Past is in The Past
Taylor Swift stands tall and proud on top of a mountain of bodies, and every single one of them happens to be someone that she was at some point throughout her illustrious career!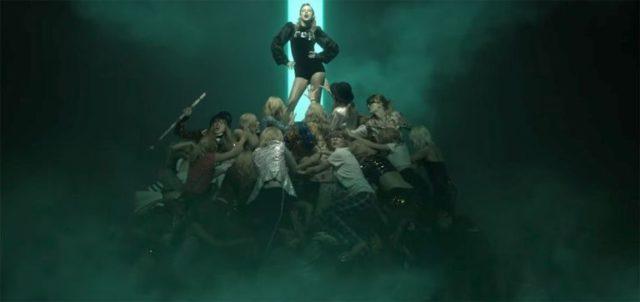 Moving On
Her old personas keep clawing at her feet, bur she pushes them off, signifying putting her past behind her, and they all fall off in slo-mo.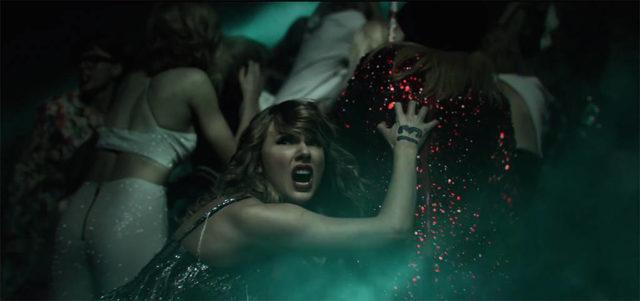 The Old Swift is Dead
The video nears its ending as TS talks on the phone. "I'm sorry, the old Taylor Swift can't come to the phone right now," she says, "Why? Oh, 'cause she's dead!"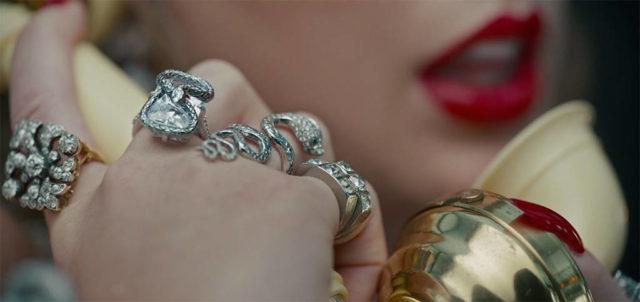 Blow It All Up!
Taylor Walks away from the paparazzi and the gold Lamborghini she drove earlier as it blows up. This was same car Katy Perry drove in her "Waking Up In Vegas" video, and TS even praised it on twitter once!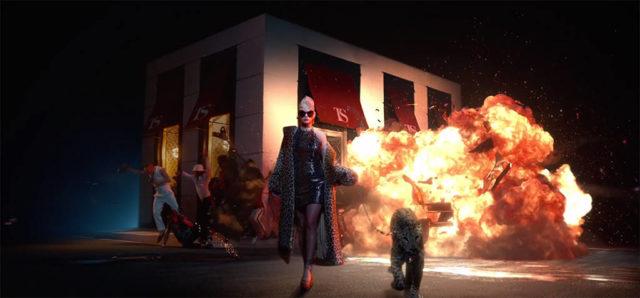 Taylor Swift's 'Reputation"
Reputation Takes Flight
A group of Taylor Swift's past personalities stand in a line, and behind them a plane with the word "reputation" painted on it stands.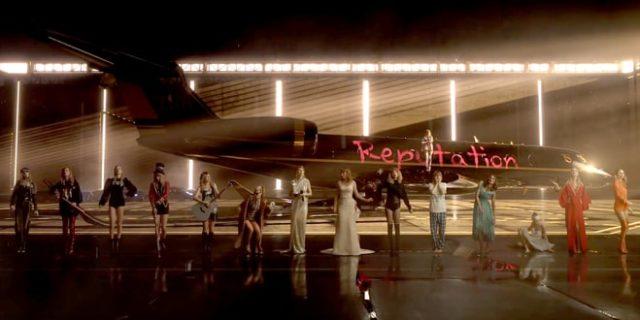 Past Personalities
There's zombie swift, her from the "Shake It Off" video, "Teardrops on My Guitar" Taylor, and the one from the "You Belong With Me video, only having swapped her "Junior Jewels" t-shirt for one with the names of all her squad-mates.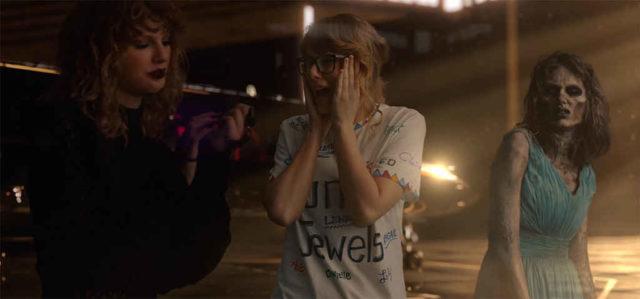 Banter
Each TS wears the outfit and makeup representing each era. They take turns quipping at each other, including lines like "There she goes, playing the victim, again" and "Stop making that surprised face, it's so annoying" mocking the criticisms she's received in the past.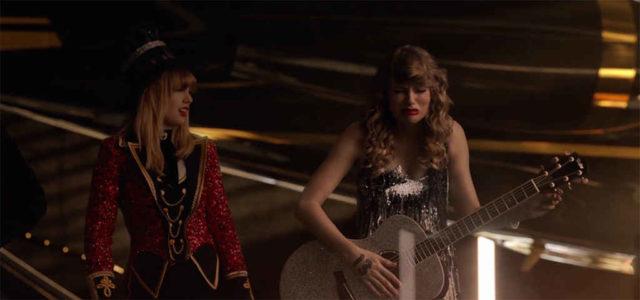 The video ends with 2009 VMAs TS saying "I would very much like to be excluded from this narrative" (which she'd said regarding Kanye interrupting her on stage), and the rest of them shouting "Oh Shut up!" in chorus.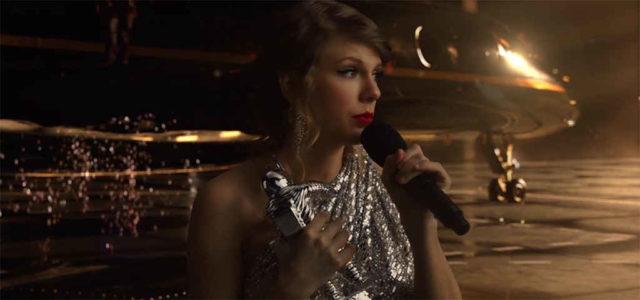 Overall, we thought the song and video were pretty clever and cool, what did you think?
Share On Facebook